Front Office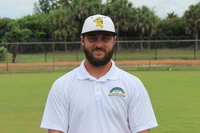 Ryan Lamb
President & GM
Phone:
561-707-9049
E-mail:
Ryan was born in Brooksville, FL where he grew up with a love for sports and has always been determined to find a way to positively influence other athletes. After becoming a three sport varsity athlete in high school he chose to pursue this dream by attending Florida State University, where he would later graduate with a Bachelor Degree in Sport Management.
During his time at Florida State he was able work with Next Level Professional Baseball Training. At Next Level he coached baseball camps, clinics, multiple summer teams as well as contributed to the sales and marketing of the company. He was also working with Titus Sports Academy by training athletes of all ages and sports backgrounds while in college. This has helped enable him to actively develop a clear understanding of the necessary tools needed for athletes to compete at the collegiate and professional levels.
After graduating college Ryan got his first taste of collegiate summer ball by working along side the General Manager of the World Series Champion Utica Brewers of the New York Collegiate Baseball League. It was with the Brewers where he learned what it took to create a winning organization with a professional class. After their championship run in the NYCBL Ryan would find himself with a new opportunity to help build something special back in his home state of Florida.
The South Florida Collegiate League was a fresh new face in collegiate summer ball and needed some more championship pedigree going into it's third fully operational season. Being young and hungry himself Ryan took his entrepreneurial mindset and viewed this as an exciting challenge that he was ready to step up to the plate for. As the league expanded to ten teams he was introduced as the new General Manager of the Delray Beach Lightning. With the Lightning he was able to help build a first class organization that competed for a South Florida Collegiate League championship year in and year out.
Throughout his time with these organizations Ryan was focused on developing continuing relationships with many different players, coaches and scouts; which has enabled him to help athletes reach their career goals. After two great seasons as the Lightning GM Ryan is now faced with another exciting opportunity of building his own championship organization in the West Boca Snappers.
Ryan currently resides in Delray Beach, FL and works as the Director of Operations for XL Baseball.